Protecting Our Planet
Avient is fully committed to protecting the environment by addressing climate change, conserving natural resources and preventing pollution. Through our environmental aspect and impact assessments within our EH&S MS, we have focused on the following key topics: energy, emissions and climate change, as well as effluents and waste from our operations.
Avient's EH&S Committee of the Board of Directors provides oversight of the systems that are in place to monitor and mitigate risk associated with these key topics. Avient's Corporate EH&S Department defines the strategy and monitors performance against related management system standards. Full operational responsibility for execution lies within each business unit and operating site. To ensure performance expectations are met, each site has trained management personnel to oversee their management systems.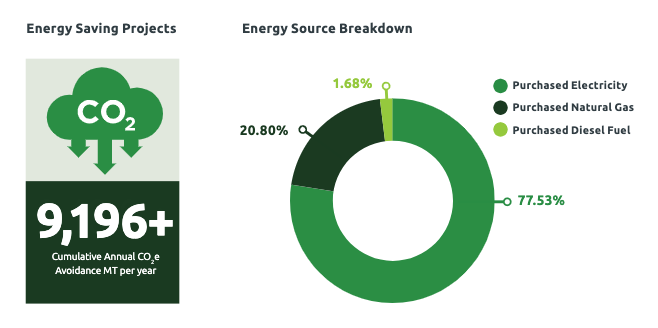 Renewable Energy Update
To help reduce consumption from non-renewable energy sources, and to facilitate the expansion of renewable energy availability, Avient continues to leverage Virtual Power Purchase Agreements (VPPA). These actions have resulted in rapid progress toward meeting our 2030 & 2050 goals. In 2021, we entered into a VPPA in Europe that will produce 37.5 MW of solar energy with benefits beginning in 2023. This agreement off-sets greater than 90% of our annual European Union electricity needs. Retained energy attribute credits will reduce Scope 2 CO2e by approximately 85,000 MT per year, an additional significant lowering of our carbon footprint. We continue to explore similar opportunities to decarbonize across our global operations.
While expanding the procurement of renewable energy globally is an important element of our low carbon strategy, Avient continues to explore and implement on-site renewable energy opportunities as well. To ensure that energy needs are minimized as much as possible, we also continue to implement energy saving projects. These projects have a cumulative effect on reducing our operational energy needs and thus our impacts on the environment.
Electricity from Renewable Resources