Top to bottom: Aluminum handle, legacy polymer handle, new Anthem Wave handle designed by Avient Design
The Challenge
With 70+ years in business and over 165 million knives made, Rada Cutlery has earned and delivered on a reputation for remarkable quality and tremendous value. Their knives inspire great cooking, and are cherished by generations of families and new users alike.
Known for their signature aluminum handle, Rada also offered a polymer version that featured greater corrosion resistance and could be run in the dishwasher without tarnishing. But, as the existing tools for this product line neared the end of its life, they had increased occurrences of manufacturing defects. While these issues were a challenge, they also saw it was an opportunity to do something new, interesting and differentiating for their product line.
The Solution
For support of its entire new product development process, Rada partnered with Avient to design their new premium product line.  Our industrial designers, scientists, application development engineers and commercial representatives collaborated to provide comprehensive support including: 
Design of the new handles for improved ergonomics, and engineered to improve manufacturability and deliver consistently high part quality.
Formulation of a custom Gravi-Tech™ density modified material to balance size and weight, using FDA and NSF certifiable ingredients. 
Developed realistic 3D printed prototypes to simulate balancing, feel and function. With this, Rada was able to physically validate and prove the design before cutting tooling. 
Worked with the mold builder on how to build the prototype mold to produce prototypes that Rada could use with focus groups to get true consumer feedback. 
Worked with the mold builder and molder to ensure that design for manufacturing was done.
Performed process analysis to validate the designs for molding to avoid manufacturing defects. 
Provided trial support to the molder to assist in overcoming initial production challenges and to optimize the process.
Recommended a finish that would have a higher quality feel, and molding texture for optimal grip, finish, mold release and mold repair capabilities.  
The Impact
Rada launched their new Anthem Wave product line that featured a larger ergonomic handle to provide greater comfort and versatility to different knife holding styles. The larger handle suited their target market of older individuals making it safer and easier to use. 
This new line represented a major departure in their design language and branding and injected a fresh feel to the product. The new formulation allowed them to go after new markets, including commercial kitchens, and improved cost efficiencies to balance the increased part size. It delivered on both their core manufacturing efficiency values and their brand promise to deliver the best value and quality guarantee to their customers.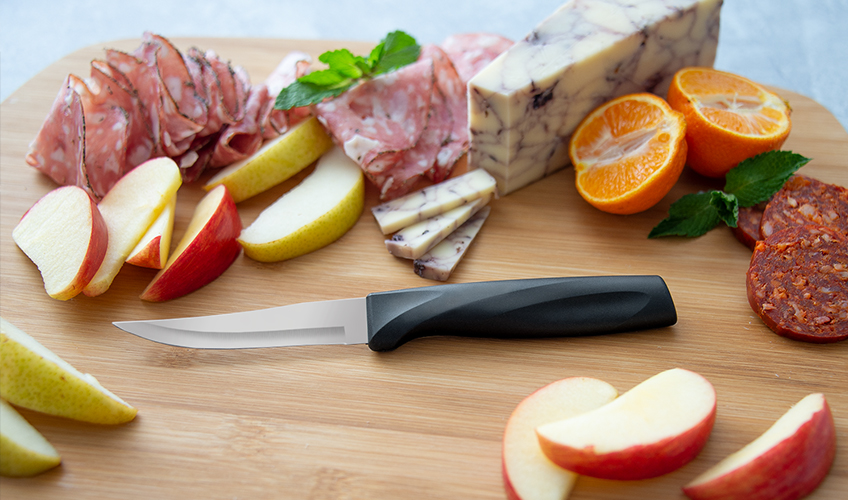 Three handles sizes were designed to fit Rada's collection of blades for the new premium product line